Alice Anderson : Between Surfaces
Curated by Rowena Chiu
UNIT9, London
27 September - 17 October 2017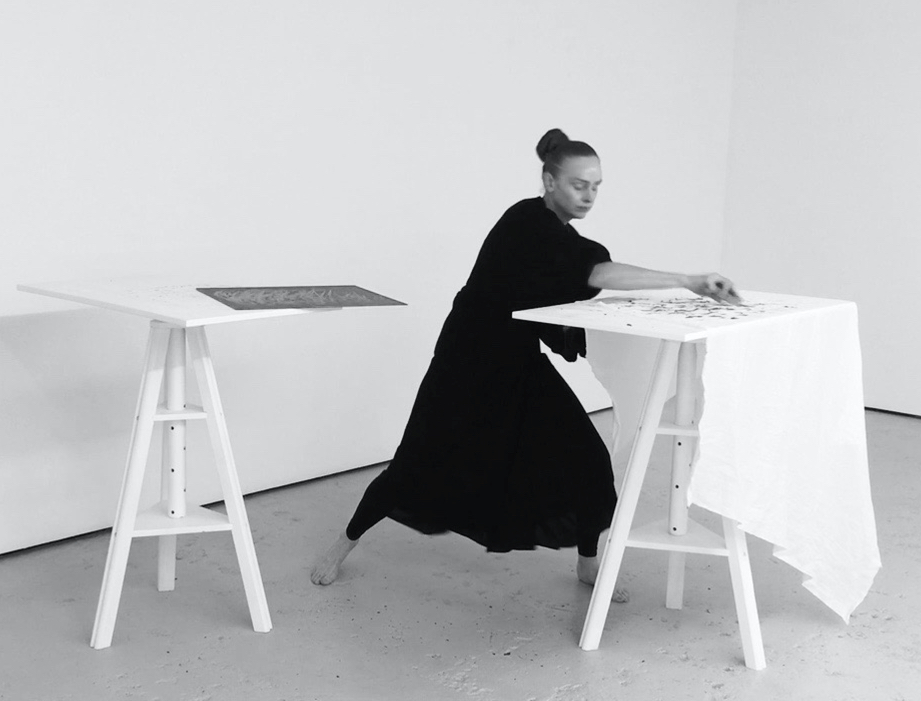 UNIT9 is pleased to present Between Surfaces, a solo exhibition of works by London-based artist Alice Anderson curated by Rowena Chiu. Anderson's practice is rooted in performance and concerned with the exploration of the post-digital – in particular, the physical and physiological mutations associated with transhumanism and the transformation of virtual data into tactile forms.



The exhibition presents an installation of Anderson's abstract sculpture whose elements have been 'memorised' through the action of winding with copper- coloured thread. Drawn to this metallic thread due to its conductive associations with the technological world, Anderson says:



"I always worry to lose or forget an object, therefore I have established rules: when one of the objects around me is likely to become obsolete or lost in the stream of our lives, I 'memorise' it with thread before it happens."



The process of weaving wire around objects takes Anderson into a meditative and rhythmic space of repetition and subtle variation. Through the act of 'performing the object', Anderson connects with it by recording and charging the object through 'printing' it with her bodily movement. The Memorised Objects series relates to the Architectures Data series which is installed at UNIT9 in the form of memorised lighting tracks.



For Between Surfaces, Anderson appropriated the gallery as a temporary studio where a new series of performances with red pastel resulted in the drawings on display. Breaking with tradition, the drawings are not a result of the direct application of pastel, but rather born of repetitive gestures between two surfaces involving 'un balancement' (loosely translated as 'rocking the body' or 'body swing'). Two strands of work result from this movement:



Pulse drawings are a visual representation of energy generated by Anderson's 'balancements' or 'body swing'. Attracted to a specific shade of red pastel due to its vibrational properties, Anderson begins by dematerialising pastel stick onto board to form a dense layer of colour. Like a drummer, she moves rapidly between two surfaces, transcribing vibrations from the red pastel board to cloth, guided by her internal beat. The performance's immediacy provides a means of healing and transcendence for the artist.



The series titled Portraits are everyday items whose barcodes or 'virtual presence' is incised into pastel board using a fine tool. Anderson obsessively replicates space and line, displacing excess pastel from tool to cloth. These latter movements form an ensemble of automatic drawings titled Essentia. Composed of seemingly abstract marks that form dense pixellated patterns, these works are a nod to the elusive essence or 'soul' of the object.



Alice Anderson (b. 1972) lives and works in London. She has recently begun a series of visits to the Indigenous community of the Arhuacos in Sierra Nevada, Colombia, whose ancestral rituals share an affinity with her processes. Anderson studied Fine Art at the École Nationale Supérieure des Beaux-Arts, Paris and Goldsmiths College, London. Her first solo exhibition took place at the Freud Museum, London in 2011. Since then her sculptures and performances have been shown at the Whitechapel Art Gallery (2012), 55th Venice Biennale (2013), Espace Culturel Louis Vuitton, Paris (2015), Wellcome Collection, London (2015), Saatchi Gallery, London (2016), Royal Academy of Arts, London (2016), Maidstone Museum, Kent (2017) and Drawing Room, London (2017). Upcoming projects include a series of performances at the Pompidou Centre, Paris (2017) and solo exhibitions of new works at La Patinoire Royale, Brussels and at Pifo Foundation, Beijing in 2018.



UNIT9 is an exhibition platform for artists who show ambition and talent. We strive to create a museum-like program on a project-space scale, showcasing artworks that fall outside of the focus of commercial galleries. Our program prioritises art as experience, with site-specific installations at the core. It is our mission to give artists the freedom to create without the restrictions of making their artworks into a product. UNIT9 will provide a blank canvas for artists to experiment without pressure or preconceived expectation other than artistic authenticity and talent.