Beyond
Curated by Rowena Chiu
Unit 1 Gallery | Workshop, London
10 - 24 February 2017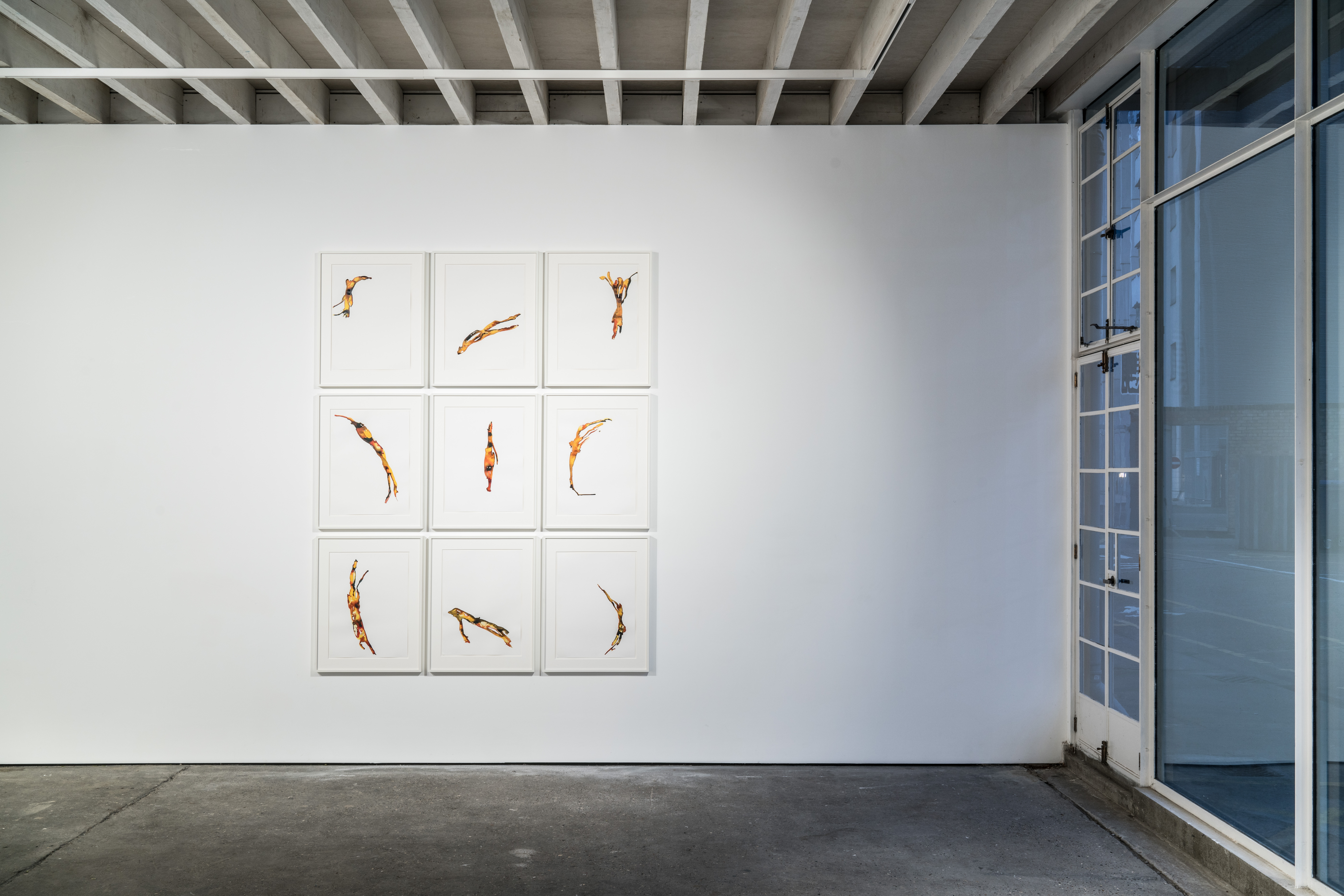 Alice Anderson
Alex Flick
Piers Jackson
Stacie McCormick
Mike Osterhout
Yukako Shibata
Philippe Vandenberg
Nick Waplington
David Zink Yi



Beyond explores the notion of utterance - the unofficial verbal expressions that lie between constructed speech. Drawing parallels between the subconscious verbal and visual acts, the exhibition playfully pairs artworks with examples of utterance such as the inhale, murmur and stammer in an attempt to explore what may exist between consciousness.



Stammer

Alice Anderson's process-driven practice is an exploration of memory in the context of the digital world via COR-TEN steel and copper thread, materials appropriated by the artist for their conductive associations. Anderson's delicate sculpture from her Minimal Gestures series created on site for exhibition is constructed with the slightest of hand through the accumulation of hundreds of tiny squares of copper mesh that interlink through instinctual and repetitive gestures to form a pyramid. The work may be read as a philosophical illustration, with the artist progressing the structure beyond moments of fragility, imbalance and near- failure towards eventual resolution.



Utterance

Alex Flick's practice is rooted in the exploration of Eastern and Western spiritual traditions, myths and folklore which are reinterpreted and represented through contemporary media. For Beyond, Flick has interpreted utterance as elevated speech: abstract visual representations of the Codex Regius' poem, Hávámaal (translated from Norse as 'sayings of the high one'). 9NV (2017) is a series of ink on paper drawings which are rhythmically-linked movements that break free in each new rendering. The forms suggest sounds that exist outside recognisable language and oscillate between symbolism and abstraction.



Inhale

Piers Jackson's works explore the aesthetic principles of pure mathematics and geometry. Using gold leaf exactingly applied by hand, his work marries balance and form to create meditative liminal spaces. Comprising of an intimately-scaled concave sphere whose proportions are based on the human lung capacity, As Within So Without (2017) was created by the artist for Beyond to represent the inhale.



Obfuscate

Stacie McCormick's process-driven inky monochrome painting resists immediate interpretation, obscuring shapes into abstraction with accidental gesture. Built up of washes of India ink, pastel, acrylic, oil, graphite and collage, McCormick manipulates drying times and works with the materials' absorption and resistance to produce a work that simultaneously conceals whilst suggesting a narrative that lies below its surface.



Ellipsis

Mike Osterhout's tobacco painting comprises of unfurled cigar leaves that have been soaked and shifted around the canvas until dry. Referencing the spiritual associations of tobacco with its origins as a medium for purification in indigenous culture, the resulting topologies highlight the in-between spaces that exist between concrete representation.



Murmur

Yukako Shibata's works are the ongoing products of an obsessive analogue study of painting. Carefully positioned and intricately considered densities and juxtapositions of colour applied by hand result in optical effects at times akin to neon. The resulting works are discretely observed explorations of pure painting.



Silence

Philippe Vandenberg's works on paper in Beyond are highly personal responses to turbulent political and social issues. Here, Vandenberg's frantic and itchy texts are silenced by heavy abstract shapes, the circle and cross both being reoccurring motifs in the artist's oeuvre which perhaps represent existential impotence or a void.



Punctuation

Nick Waplington's sculpture Definitely Probably Yes No Maybe replicates at 1:1 scale the tombstone of ex Joy Division singer Ian Curtis. Reproduced with permission of Curtis' family and band, Waplington appropriates the universally immortal lines: 'Love Will Tear Us Apart', the statement providing a poignant elegy to Curtis' life, which was notoriously troubled by epilepsy and depression.



Breath

David Zink Yi's video work Pneuma underlines the symbiotic relationship between utterance and physicality, with the subject of the film's exhale determining the duration and intensity of the trumpet, an instrument that is often associated with animation. The exhale in this context may be interpreted as vitality, 'pneuma' being the Ancient Greek word for 'breath' and - in a religious context - for 'spirit' or 'soul'.



Alice Anderson (b. 1972, London) lives and works in London. She studied at L'École Nationale Supérieure des Beaux-Arts, Paris and Goldsmiths College, London. Recent solo projects include a permanent commission at the Eiffel Historical Building, Paris, 2016; exhibitions at Espace Culturel Louis Vuitton, Paris, 2015; Wellcome Collection, London, 2014 and the Freud Museum, London, 2013. Group exhibitions include Traces, Minsheng Art Museum, Beijing, 2016; Champagne Life, Saatchi Gallery, London, 2016; Nomadic Nights, Foundation Cartier, Paris, 2011 and Elles@CentrePompidou, Paris, 2010.



Alex Flick (b. 1986, Bern) lives and works in London. He has a BFA from New York University, majoring in Film and Philosophy and a post-graduate diploma in 4D Fine Art from the Hochschule der Kunste, Zurich. His work has been exhibited in a solo exhibition at UNIT9, London, 2016 and group exhibition where is my mind at KUNSTRegensburg, 2015.



Piers Jackson (b. 1970, Jamaica) lives and works in London. Solo exhibitions include Serena Morton Gallery, London, 2015; T1+2, London, 2008 and Eyestorm, London, 2005. Jackson will have a solo exhibition at Amar Gallery, London, in March 2017.



Stacie McCormick (b. 1962, Los Angeles) completed her BFA at the University of Alabama and MFA at City and Guilds, London. Recent exhibitions include a 2-man show with Jelena Bulajic at Unit 1 Gallery|Workshop, London, 2016 and group shows Drive Thru, Cavendish Square, London, 2016 and Big Deal No. 7 – Space, 39-41 Whitecomb Street, London, 2016. Curatorial projects include Home Where Art Is, Charleston, South Carolina, 2009-2014.



Mike Osterhout (b. 1952, Montgomery NY) completed his MFA at San Francisco Art Institute and Pacific School of Religion in Berkeley CA, earning a CTS in 1983. He participated in group show Choices at the New Museum, NY, 1986 and founded gallery MO David in the East Village between 1982-1986. He is currently founder of The Church of the Little Green Man and The Old School (and Shul) for Social Sculpture in Sullivan County, NY. Recent projects include Immersing the planet in the mikvah, a 2-man show with Terrence Koh, NY, 2016. Osterhout has started an open-ended work titled Sell to the Rich, Give to the Poor where any resident of Sullivan County, NY, who can prove that they are below the poverty line may be given a major work by the artist with no strings attached.



Yukako Shibata (b. 1972, Hokkaido, Japan) lives and works in London. She completed her MFA in Painting at the Royal College of Art in 2005, during which she was awarded an Artist Residency in Halifax, Nova Scotia, Canada in 2003. Selected solo exhibitions include Gallery MoMo, Tokyo, 2014; Lightgallery, London, 2013 and The Daiwa Anglo-Japanese Foundation, London, 2008. Group exhibitions include The Tim Sayer Bequest, The Hepworth Gallery, Wakefield, 2016 and ING Discerning Eye selected by Doris Lockhart Saatchi, Mall Galleries, London, 2012.



Philippe Vandenberg (b. Ghent, 1952-2009) began his studies in literature and art history before graduating from the Royal Academy of Fine Arts in Ghent, Belgium in 1976. After several exhibitions in Europe, Vandenberg exhibited for the first time in New York in 1986, when the Guggenheim acquired one of his paintings for its collection. Solo exhibitions that followed include the Museum van Hedendaagse Kunst, Ghent (now S.M.A.K.), 1995; MuHKA (Museum voor Hedendaagse Kunst in Antwerp), 1999 and Musée Rimbaud in Charleville-Mézières, France, 2006. The De Pont Museum in Tilburg and Maison Rouge in Paris showed works by Vandenberg in dialogue with Berlinde De Bruyckere in 2012 and 2014 respectively. Recent solo exhibitions include Drawing Room, London, 2016 and Hauser & Wirth, Zurich, 2014.



Nick Waplington (b. 1965, Yemen) lives and works in London and New York. He has published a number of photobooks which include Alexander McQueen: Working Process, 2013, Safety in Numbers, 1996 and Living Room, 1991. Solo exhibitions include Tate Britain, London, 2015; Little Big Man Gallery, Los Angeles, 2014 and the Whitechapel Gallery, London, 2007. Group exhibitions include La Biennale di Venezia - 49th International Art Exhibition, 2001 and This Place - Artists look at Israel and Palestine, The Brooklyn Museum, 2015. Waplington received an ICP Infinity award in 1993 and his works can be found in the Guggenheim, MoMA, V&A and Government Art Collections.



David Zink Yi (b. 1973, Lima) lives and works in Berlin. He studied at the Munich Academy of Fine Arts and the University of the Arts in Berlin. Solo exhibitions include Williams College Museum of Art, Williamstown MA, 2016; Kunstverein Braunschweig, 2013; MALI Museo de Arte de Lima, 2012; Neuer Berliner Kunstverein, 2012 and Midway Contemporary Art, Minneapolis MN, 2011. Group exhibitions include El Atlas del Imperio, the Latin Pavilion's presentation for the 55th Biennale di Venezia, Venice, 2013; No Lone Zone, Tate Modern, London, 2012 and the 10th Bienal de La Habana, Havana, 2010.