Jakub Julian Ziolkowski :
Cosmo
Curated by Rowena Chiu
BWA Gallery, Zamosc, Poland
6 May - 5 June 2017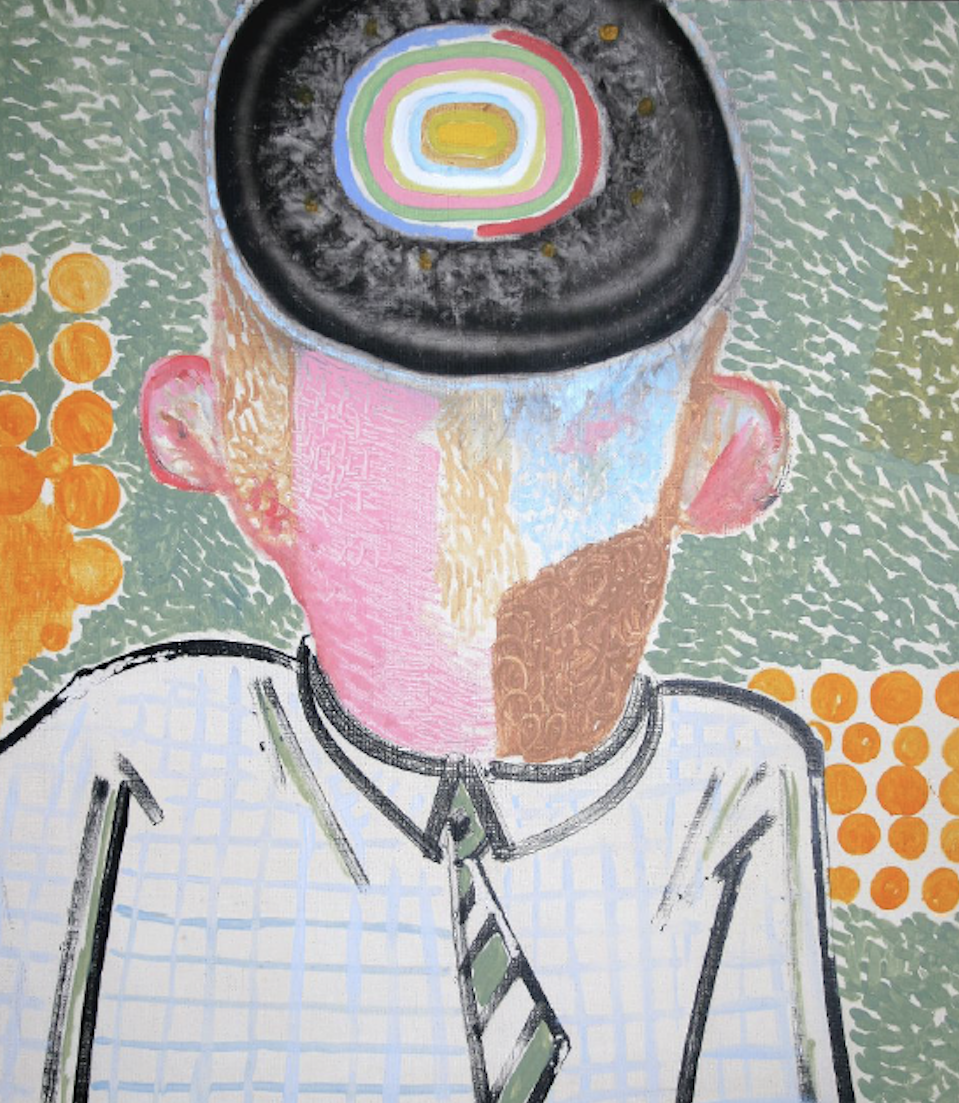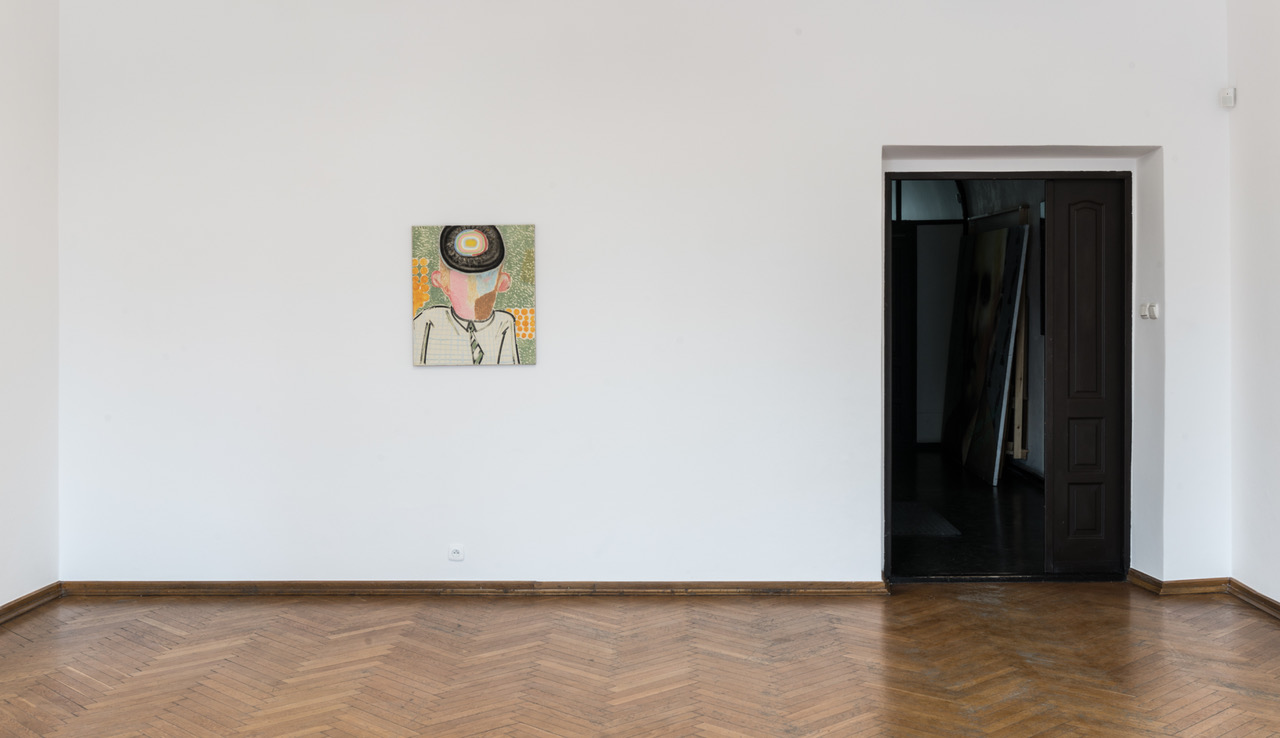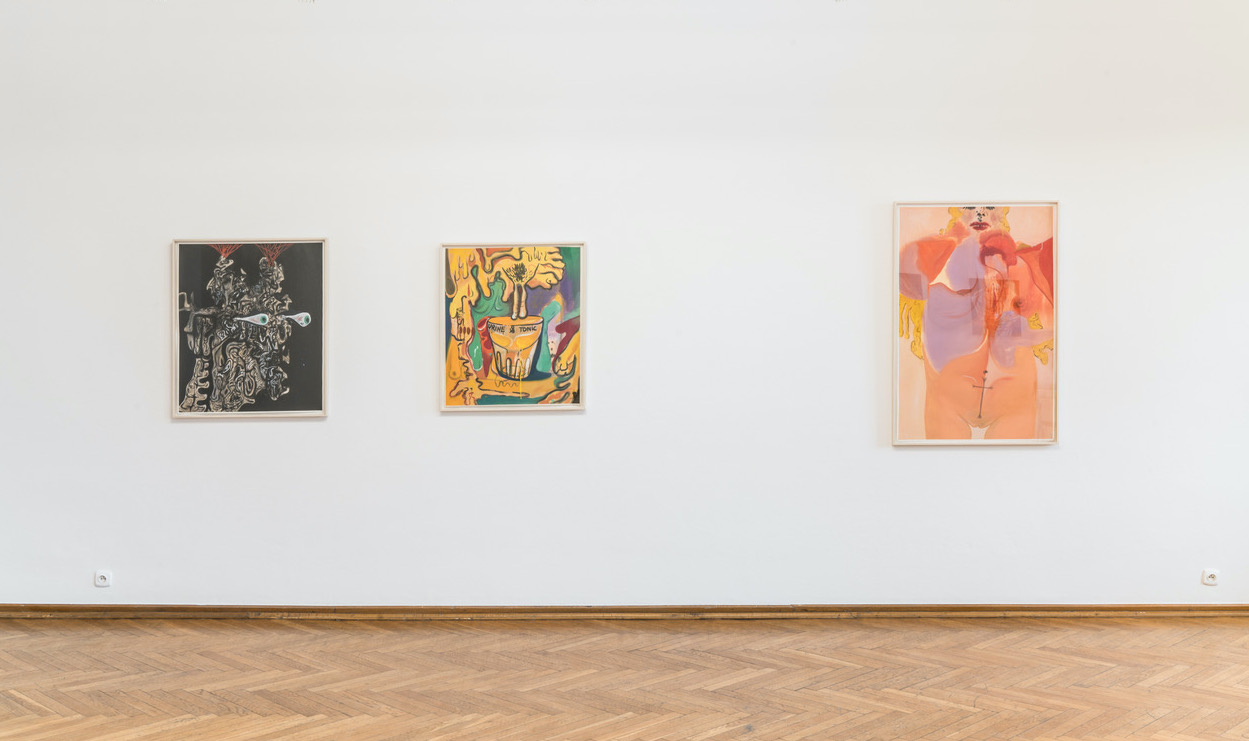 Julian Ziolkowski (b. 1980, Zamosc) may be described in Jung's archetypes of psyche as a Magician. Ruled by a shape-shifting personality strongly guided by intuition, alchemy and transformation, the Magician has an innate relationship with potentiality and possibility. Through his artwork, Ziolkowski's chaotic inner world gives birth to vibrant, multilayered and untamed creations that channel his mental state in to the physical world, constantly in a state of flux.



Kosmo presents a selection of paintings realised between 2004 and the present, which encompass self-portraits- both literal and metaphorical, mental landscapes and thoughts or impressions rendered into abstract, surreal or symbolic compositions. Having exhibited at BWA gallery in 2004, this exhibition marks Ziolkowski's return to his hometown of Zamosc over a decade later.



The earliest of the works, Mezczyzna (Man), 2004, depicts a male face divided into segments of colour or auras: fluorescent pink, beige, sky blue and light brown. The regularity of the grid of the figure's shirt riffs against fluid brushstrokes of the background, which are reminiscent of blades of grass or ripples of water. The top of the subject's head is foreshortened as though dissected, revealing a colourful maze-like pattern perhaps representing thoughts, emotions or ideas. Somewhat acoustic in its composition, the portrait offers a musical quality within its pace, technique and palette.



A series of three figures dated 2007 continue Ziolkowski's rhythmical approach to painting. Composed of a bold palette of orange and black and liquid gestures juxtaposed with geometric lines, Ziolkowski depicts intestinal elements within the female form. One may interpret the abstracted, interconnected system of nerves, muscles and veins within the body as microcosms of the cosmos. Almost faceted in form, these portraits illustrate the artists's concern with the expression of energy.



Untitled (2010), depicts an unclothed blonde woman with a painted face, spidery lashes, red lips and a smattering of ink blots down her face as though diseased. Veering towards the grotesque, this watery gouache is reminiscent of the louche and colourful paintings of Toulouse-Lautrec, merging symbolist elements with a distinct and unexpected palette that is echoed in a dry-witted painting from the same year depicting 'urine and tonic'.



Three fantastical landscapes dated 2013 may be read as psychological topographies. Untitled (2013), a barren mountainside lifted by warm tones of sky decorated with clusters of stars, appears to present a cushion of auras or atmospheres not dissimilar to that of the face from Mezczyzna (Man), 2004. Parallels between works from these two periods are further reinforced as slanted rain pours down on a rugged mountainscape from 2013 echoes a storm depicted in Untitled (Wedrowcy / Hikers), 2004. These bodies of work illustrate the artist's consistent concern with prophetic fallacy and psychological landscapes.



'In all chaos there is a cosmos, in all disorder a secret order.'



Jakub Julian Ziolkowski (b. 1980) lives and works in Krakow. Previous solo exhibitions include: Foksal Gallery Foundation, Glimpses, Warsaw, 2017; Neues Museum, Das Leben Selbst, Nurnberg, 2017; Sick Of Love, Café Nhà Sàn, Hanoi, 2016; Jakub Julian Ziolkowski. Imagorea, Warsaw Academy of Fine Arts, 2014; Raw Thoughts, Hauser & Wirth Zurich, 2013; In Utero, Parasol Unit, London, 2011; Jakub Julian Ziolkowski. Timothy Galoty & The Dead Brains, Hauser & Wirth New York, 2010. Group exhibitions include: An Uncanny Likeness, Simon Lee, New York, 2017; Animality, Marian Goodman, London, 2016; State of Life, National Art Museum of China, Beijing, 2015; Il Palazzo Enciclopedico, 55 Venice Biennale, Venezia, 2013; Painting Between the Lines, CCA Wattis Institute, San Francisco, 2011; The Generational: Younger Than Jesus, The New Museum of Contemporary Art, New York, 2009. Upcoming solo exhibitions include Nasellini, M|A|N, Nuoro, 2017.